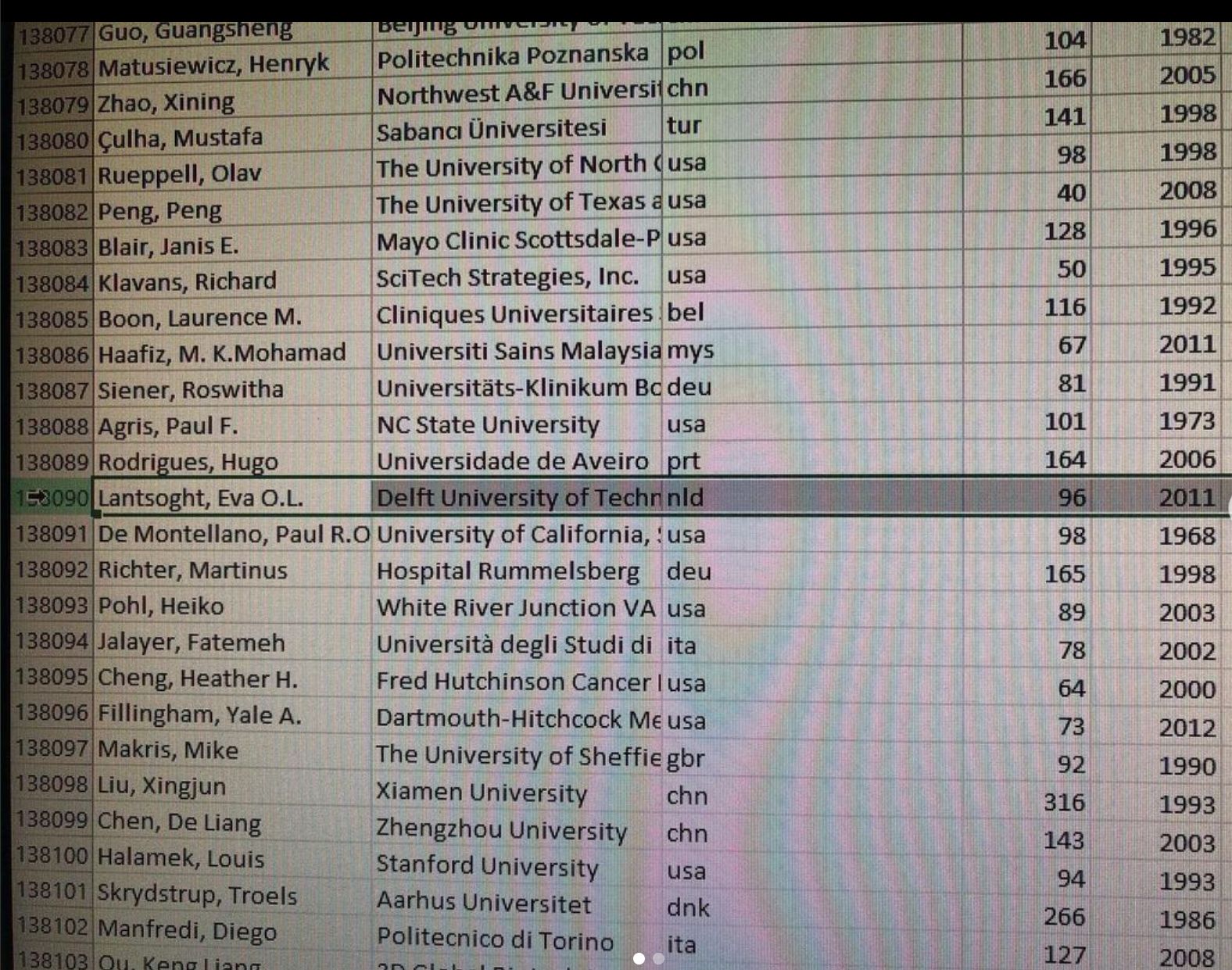 How to become a top 2% scientist
The 2021 version of the Ioannidis ranking of scientist was published a few weeks ago on the Elsevier page. The description of this dataset is as follows:
Citation metrics are widely used and misused. We have created a publicly available database of over 100,000 top-scientists that provides standardized information on citations, h-index, co-authorship adjusted hm-index, citations to papers in different authorship positions and a composite indicator. Separate data are shown for career-long and single year impact. Metrics with and without self-citations and ratio of citations to citing papers are given. Scientists are classified into 22 scientific fields and 176 sub-fields. Field- and subfield-specific percentiles are also provided for all scientists who have published at least 5 papers. Career-long data are updated to end-of-2020. The selection is based on the top 100,000 by c-score (with and without self-citations) or a percentile rank of 2% or above.
The dataset and code provides an update to previously released version 1 data under https://doi.org/10.17632/btchxktzyw.1; The version 2 dataset is based on the May 06, 2020 snapshot from Scopus and is updated to citation year 2019 available at https://doi.org/10.17632/btchxktzyw.2
This version (3) is based on the Aug 01, 2021 snapshot from Scopus and is updated to citation year 2020.
And in the singleyr_2020 datasheet, entry number 138090 you will find my name. I must admit that my heart made a little leap to find myself in this ranking of top scientists.
This event set me off to think what made me become a top scientist. Your mileage may vary, but here is what helped my work get published and cited:
Write. This step is a bit of an open door, perhaps, but when I started working in Ecuador I was teaching three new courses per semester. I could have shelved my writing projects for a while (I only* had two journal articles from during my PhD, so I didn't have writing momentum built up yet), but instead I tried to carve out a bit of time, every day, to write. In the end, putting in the time and effort, making it a priority, and having a good pipeline helped me get started with writing my articles.
Work on single-authored papers. If you want to get known for your research outside of the research you carried out during your PhD, working on single-authored papers can be important. Granted, it will be difficult to get funding for a project for yourself alone, but you can work on a theoretical analysis, or an analysis of existing data, to move your work forward.
Collaborate internationally. On the other hand, working with others is also important, and expanding your network beyond what you built up during your PhD is crucial in the ECR years. Try to reach out to colleagues internationally, see how you can exchange ideas, and eventually maybe these actions will lead to papers or citations.
Share data. One of my most cited articles is single-authored work that was surprisingly low budget (in fact, I only got a small grant from my university to cover costs of presenting this work at a conference). I developed a database of shear experiments on fiber reinforced concrete beams with longitudinal steel and without stirrups, and wrote an open access paper about the data, placed the database on Zenodo, and wrote a theoretical analysis article as well. Many other researchers have used my database, and have cited my articles on the topic as well.
Make my work discoverable? I'm not sure if being a blogger and being visible on social media has contributed to my work being more cited. Perhaps it has helped some researchers find my work, but I have the impression most visibility has come from collaborations, technical committees, and conference presentations
* Read this with sarcasm. In my research group, in that time, having a paper during the PhD was considered a win.