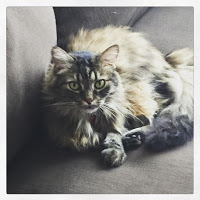 Some thoughts on working from home without childcare
As I read the post "Help me sort out our schedule" on Something Remarkable, I found it OK to share with her some things that worked for us.
Here's what I wrote – it may help you as well if you find yourself back in a position without childcare while having to work from home:

Can you put the schedules of all three of you next to each other in a spreadsheet to see when there are opportunities?
Some things that worked for me in the 2 months of no childcare (one child recently turned 3 and does not sleep through the night, husband with very irregular schedule – mostly outside during the day, lots of grad student supervision and teaching 1 course/semester, research-heavy position):
– setting up something to play (box with surprises etc) which can buy me up to 1 hour
– I take calls on my phone while she plays in the park
– telling her we are reading – mom is reading an article and she pretend-reads a book / with variable success
– expecting that I can do max 3 things in a day
– an evening work block
– too much screentime when all else fails

Now, the Empress goes a few hours a day to her grandma, which has allowed me to get more thinking and writing done.