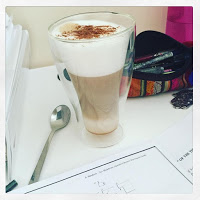 The place of my desk at home
Welcome to an episode of full-on navel-gazing!
I've been moving my desk around our apartment a few times.
Originally, I had an entire spare bedroom I claimed as my home office. Then, when my daughter was born, that spare bedroom became her room, but she slept in her crib in our bedroom (and then, mostly in our bed) until she was two. When she was two, I decided to rearrange her room – old, borrowed furniture and babystuff went out, and I got her new furniture and her own bed.
My desk then went to the hallway – we have a "central" open space where the 3 bedrooms come together, and my desk fit there perfectly. March 2020, when I started to work full-time from home, revealed that this position is not ideal. If I'm teaching in the hallway, for sure people will start walking behind me during my lecture. There's no door I can close. And – biggest problem: our hallway has no daylight. So I sat under my lamp for half of the Spring semester and the entire Summer semester. My eyes hurt. My eyesight may have worsened even more.
So in August, I made space in our bedroom and put my desk next to the window. Now I have daylight and a door I can close when necessary. The only drawback now is that I will temporarily need to sit at the dining table or somewhere else when I have an early call and my husband is still sleeping. We'll see how my new working space works out for me – as we will all be working from home for quite some time.